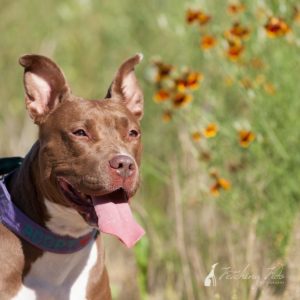 Miss Zoey made her t.v. debut on July 1st at the KVUE studio in Austin, TX. Check her out here on their Pet of the Week.
This sweet girl is one of Love-A-Bull's long stay Adopt-A-Bulls and she is a fantastic dog that deserves a loving home!
Zoey came to Love-A-Bull in April of 2015 after being found in the Houston area by a good Samaritan. Local police were contacted and the police offer that responded knew of Love-A-Bull so we were contacted to take Miss Zoey in. Zoey did fantastic in her foster home that she shared with two other pups. Unfortunately, Zoey's foster parents ended up moving out of state for business and Zoey was placed into boarding. After about a month of boarding, we thought Zoey had finally found her forever home and she was adopted! This was not to be Zoey's forever home, though and after 6 months, she was returned to the organization. Love-A-Bull does our best at match making, but sometimes the dog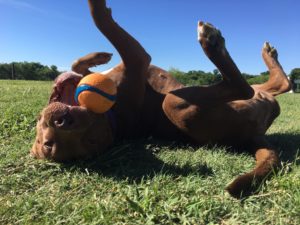 and the new family just don't end up bonding. After being returned, Zoey went through an extensive amount of training to help her hone her energy and this is when we found out that Zoey loves to learn. She absolutely excels at training!
After being returned from her adopter, Zoey again went into boarding for a couple of months before we found a foster home for her. Unfortunately, that foster home would not be able to keep her long as they had some life changes taking place, so off to boarding again Zoey went. Zoey was in boarding for almost 3 months before another foster home was found and that is where she has stayed.
Zoey thrives on structure and activity and we believe the consistent changes in her home environment have unfortunately led to her being dog reactive. This of course makes her placement a little more difficult, but we know that perfect family or person is out there for her! Zoey absolutely has the potential of being dog social as both her previous foster homes and her training, she was housed with multiple other dogs. However, at this point in time we are seeking a home where she is the only pet.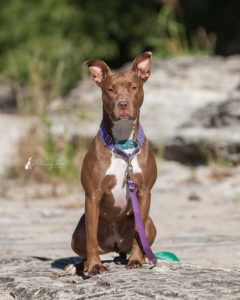 Zoey is an absolute sweetheart of a dog! She loves her people and attaches to them quite quickly. She truly is a dog that loves to please. She is an excellent cuddler and a champ at snoring. Zoey is a perfect dog for an active family! She loves outdoor activities like hiking, biking, getting on the trails or even long walks around the neighborhood. We also recently discovered that she likes the water, so if you enjoy any of the lakes around the Austin area, she's your girl. Zoey would also be a fantastic pup to get involved in Nosework or even Agility…she's that good! Zoey is also incredibly fond of children and gets along quite well with them.
If you are looking for a smart, beautiful, goofy, active pup then please take the first step and fill out our online adoption application: https://love-a-bull.org/adopt/adoption-application/