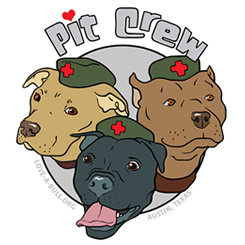 Love-A-Bull's Pit Crew is an award winning all Pit Bull and Pit Bull mix breed therapy dog program serving Austin, TX and the surrounding areas.
Our dogs provide therapeutic interaction that can improve mood, build confidence, and repair hearts. We help educate the community about dog safety, humane care of animals, and the rewards of being kind. We also attend reading clubs, art clubs, and festivals. If you think that our dogs could benefit your organization, please consider filling out our site information form.
Pit Bull type dogs serve in almost every major therapy dog organization in the country, proving again and again to be highly trainable and social by nature. They also perform well as service dogs for individuals with special needs, and as working dogs alongside police and other civil servants. For all they do right, Pit Bulls who work in therapy are often labelled as a different breed for their "protection" against unfair stereotypes. As an all Pit Bull team, the Pit Crew doesn't hide who they are. We aim to give credit to the underdogs for their many talents – highlighting who they are, where they come from, and how just about anyone can be great if they work hard and are given a fair chance.
For more info on pitties working as therapy dogs, please view a video of Leo, one of the dogs seized from Michael Vick, performing therapy work, and a story in TIME about how one veteran's pit bull is helping him cope with post-traumatic stress disorder.
---
The Beginnings of the Pit Crew
Love-A-Bull's all-pit therapy program launched on February 24, 2011. Composed entirely of pit bull type dogs, The Pit Crew is one of the first programs of its kind in the country.
The first ever class of The Pit Crew graduated and celebrated on March 26, 2011! Check out these photos from graduation day, as well as many more photos of the Pit Crew at work. Love-A-Bull has also seen some wonderful press and commentary from the local community, news, and our friends from all over! You can also keep up to date with these therapy dogs on our Facebook page!
The Pit Crew has been busy working with the children at Gullet Elementary School, many of whom have special needs and are disabled. In addition, the Pit Crew offers reading assistance to students, many of whom also have special needs, such as dyslexia. The Pit Crew also visits the BeHive, an innovative after-school program for school-age children in a neighborhood known for high crime, high unemployment, and lack of affordable, quality care for children. The Pit Crew also services Elder Haven, an adult day care program, as well as Regent Care Center, a nursing care facility. The Pit Crew also works at St. David's with survivors of traumatic brain injuries. In addition, the Pit Crew has visited Perez Elementary School and KinderCare daycare to offer advice on how to properly treat animals, has helped educate the public on animal care at AAC's Wellness Clinic, and has attended other public events, such as festivals, farmers' markets and community-wide celebrations. New venues are always being added, but the Pit Crew intends to service only a small number of venues so that it can keep its ratio of volunteers to venues appropriate. The Pit Crew believes that customer service is of utmost importance. If you have a venue that would like a visit, contact pitcrewsites@love-a-bull.org
---
Would you like to join the Pit Crew with your dog?
Does your adore-a-bull boy or girl have the qualities below? If so, we invite you to join us for our next Pit Crew Therapy Training Session! Pit Crew candidates are:
Pit Bull and Pit Bull mix breed dogs
Dog must be at least 2 years of age
Canine Good Citizen Certified More about CGC testing here 
Spayed/neutered, and at least 2 years old  Resources Page: Spay/Neuter/Low Cost Clinics
Friendly with people of all types and abilities
Friendly toward other dogs
Possess an appropriate temperament (not overly shy or overly excitable)
Respond well to a variety of situations and stimuli
Controllable, predictable, reliable and calm
Dog handlers on our team also possess a desire to help the community, share their dog's love, train and work with their dog, and advocate for responsible dog ownership.
---
Registration for Pit Crew Training
Next Class » August 28, 2016 » 6:30-8:30PM » Zoom Room: 7739 Northcross Drive, Austin, TX 78757

Classes are held once a week for 7 weeks on Sundays; Graduation will be 10/9/2016
We require a $150 training deposit. The deposit is fully refundable if you volunteer 15 times within one year of graduation.
Register for training here
Want to get notified about future CGC tests and Pit Crew therapy dog training classes?  Join the Pit Crew mailing list.
---
Class Information
Pit Crew Training is offered 2 or 3 times per year; for 7 weeks at about 2 hours per class.
Prior Registration is required for participating. You may NOT bring your registration form, medical records, proof of CGC or payment to class.
If you have any issues registering for class, email Crystal@love-a-bull.org for assistance
Classes are held indoors
Details on specifics of the class and a Pit Crew Training Manual will be provided by the class trainer.
What do I need to bring to class the first day?
All dogs must be on leash during class, and you should bring along yummy, soft treats (bring plenty!!) and no dogs can be on a choke chain. We suggest a Martingale collar (1″ width). Leashes must be no more than six feet. Please also wear comfortable, no-slip shoes, such as sneakers.
---
Q&A About the Pit Crew Training Program
What is the Pit Crew?
The Pit Crew is a group, formed by Love-A-Bull, of volunteers, and their pit bulls, who wish to serve the community through therapy work. Please click here for KXAN's story on the Pit Crew.
Can anyone participate in the the Pit Crew?
Anyone with a dog labeled as a "pit bull" can register for the Pit Crew's training classes if his or her dog has passed the Canine Good Citizen (CGC) test. You must provide proof of your CGC to register. Check out our CGC page or our Meetup calendar for the next test.
Why is it required that my dog be at least 2 years old?
At this age, a dog has reached maturity and their temperament has fully stabilized. Like humans, dogs go through tremendous growth and change the first part of their life – from their puppy-hood to the "teenage years" to reaching full maturity.
What will the training classes be like?
Training sessions will consist of intense instruction designed to prepare you for the experience you and your dog might typically have when performing therapy work. While it is our goal to help your dog learn how to work through these situations, some dogs may exhibit behaviors that are not acceptable for this line of work and for this reason not all dogs graduate.
Does my dog need to get along with other dogs?
Yes, your dog will be working in close quarters with other canines. As a result, your pittie must be extremely dog social.
---
About our Trainer
Crystal has taught obedience to all bully breed classes in Houston with great success and has worked with numerous rescues to rehabilitate many abused and neglected dogs. In 2008, she worked with the Conroe Chief of Police as an Adviser to reorganize the Conroe Animal Shelter. This resulted in a complete shelter overhaul with a no-kill agenda, a strong volunteer organization, and the removal of the shelter's Pit Bull auto-kill policy. Crystal has also been an instructor for the Healing Species of Texas, a non-violence outreach program that teaches empathy and compassion with the assistance of rescued dogs as role models. Crystal is the proud parent of "Mo", a Pit Bull/Rhodesian Ridgeback mix who has visited Assisted Living Centers, classrooms, and has worked as an assistant for The Healing Species Texas. Crystal currently owns and trains for Leaps N' Hounds Pet Care & Training in Austin, TX. She offers private obedience training, behavioral counseling, and CGC Classes and is a certified CGC Evaluator. She and the Leaps N' Hounds team are proud to be partners with the Love-A-Bull organization and offer training discounts to all dues paying Love-A-Bull members. She can be reached directly at crystal@leapsnhounds.com – www.leapsnhounds.com