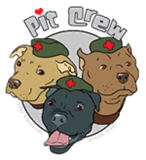 Love-A-Bull's Pit Crew is an award winning all Pit Bull and Pit Bull mix breed therapy dog program serving Austin, TX and surrounding areas. 
Our teams are more than just dogs who provide therapeutic interaction, improving mood, building confidence, and healing hearts.  Pit Crew teams work as ambassadors for their breed, helping to educate the community about dog safety, the humane care of animals, and the importance of never judging a book by its cover.  
Where does the Pit Crew visit?  
See Pit Crew in action on 'The Hook' at University of Texas

Request Visits 
Therapeutic Visits:  Popular with schools, crisis centers, assisted living centers, hospitals,

and even UT finals week,  therapeutic visits are cuddle sessions where the presence of a sweet dog provides comfort and companionship to anyone that needs it.

Book Reading Buddies: Request a Pit Crew dog to read to at your local library, or request dogs at your school to help get kids excited about reading. Dogs are great listeners and help kids relax as they learn and practice these critical skills.
Art Activities: Dog bandanas, paw art, dog toy making, and other fun activities are great for students (or summer campers) to help local charities or just create some cool stuff. Want to work on a project with Pit Crew? We can help!
Dog Safety Talks: Pit Crew is available for assemblies and clubs to come talk about dog safety, caring for pets, dog training, and the world of therapy dogs.
Advocacy Visits: Pit Crew attends a number of festivals and special events every year to give presence to the positive, sweet, and well-behaved side of Pit Bull-type dogs. Request a Pit Crew dog (or a few) to attend your event and add a bit of puppy-ish charm with a kissing booth or photo-op with America's finest four-legged friends.
Request Pit Crew visits by emailing our coordinator: pitcrewsites@love-a-bull.org.   
Join Pit Crew!
Is your dog a future thera-pittie?  
We are growing and would love for you and your well-socialized Pit Bull or Pit Bull mix to join our team!  
Prerequisites
All candidates must be Canine Good Citizen certified. Testing is available in partnership with Leaps N' Hounds Dog Training.  Sign up for upcoming CGC Tests or request a private test at LeapsNHounds.com.
Get Certified*
Classes:  Attend our six-week training program (photos) where you and your dog can prepare, test, and certified for therapy work.  Classes occur twice a year. 
Private Training (New!):  Email the trainer at Crystal@Love-A-Bull.org to learn more about one-on-one training to prep and certify for therapy work. Still need your CGC? She can help with that too.
*Attending training is not a guarantee for passing.
---
Next Class: January 28, 2018
Time: Sundays 6:30-8:30 PM

Classes are held once a week for 6 weeks.

Graduates: March 4, 2018
Location: Zoom Room: 7739 Northcross Drive, Austin, TX 78757
---
Not ready yet? Stay up do date on Pit Crew training and more here!  Or email the trainer with questions: crystal@love-a-bull.org.  
Just getting started? Love-A-Bull also offers free obedience training classes to all Pit Bull type dogs in the community!  
Pit Crew Trainer: Crystal Dunn
Crystal Dunn has been a professional trainer since 2006. Quickly developing an affinity for the many Pit Bulls that graced her obedience classes, she adopted a Pit Bull/Rhodesian Ridgeback mix named Mo right off the street in 2007.  He proved to be a huge influence on her life and career, propelling her into therapy dog work and drawing her into the community of Pit Bull advocates. He became her teaching assistant and served the community in many ways. You can read more about Mo's amazing life here.
As a trainer, Crystal has served as a consultant on multiple projects, including transitioning a kill shelter to no-kill model and assisting in designs and safety protocols for local dog-friendly establishments. She has authored a training manual for monitoring dog parks and has articles published in various dog-related publications. She has also been featured in Austin Woman Magazine.
Crystal advocates for treating dogs as individuals and works with their strengths to modify and improve behavior.  Her training style is communication-based, kind, and practical, with an emphasis on building trust with the dog so that they follow guidance happily and willingly. Her students say that they understand their dogs better and form closer relationships with them.
Crystal Dunn is a Certified Professional Dog Trainer-Knowledge Assessed (CPDT-KA) and has coached the Pit Crew since 2011. She serves on the Board of Love-A-Bull and owns Leaps N' Hounds Dog Training in Austin, TX.  She is married with 2 cats, 2 dogs, and a daughter.
Reach her directly at crystal@love-a-bull.org
Want to know more about The Pit Crew? Visit our FAQ