Table of Contents
What is BSL?
Problems with BSL
Effective alternatives to BSL
BSL in Texas
---
What is BSL?
Breed-specific legislation (BSL), also known as breed-discriminatory legislation (BDL), bans or restricts certain types of dogs based on their appearance because they are perceived as "dangerous" breeds or types of dogs.
A breed ban usually requires that all dogs of a certain appearance ("targeted breed") be removed from the area where the BSL has been implemented.
Breed-specific restrictions may require an owner of a targeted breed do any of the following or more, depending on how the law is written:
Muzzle the dog in public
Spay or neuter the dog
Keep the dog on a leash of specific length or material
Purchase liability insurance of a certain amount
Place signs on the outside of the residence where the dog lives
Problems with BSL?
BSL has been proven ineffective in reducing the number of dog bites in areas where BSL is enacted.
The Netherlands (Ban on "pit bulls" since 1993)—Dog bites continued to rise after a breed ban was enacted. The ban was repealed in 2008.
United Kingdom (Ban on four types of dogs since 1997)—Dog bites increased by 50% between 1997 and 2007, and a number of fatalities involved non-banned breeds.
Denver, CO (Ban on "pit bulls" since 1989)—"Between 1995 and 2006, Denver had almost six times as many dog-related hospitalizations compared to Boulder, even though Denver's population is less than twice that of Boulder." Boulder does not have BSL.
Prince George's Co., MD (Ban on "pit bulls" since 1996)—A task force found that "the public safety benefit is unmeasurable."
BSL has proven very expensive to implement and enforce.
Prince George, MD—In the fiscal year 2001-2002, expenditures due to pit bull confiscations totaled $560,000. Income from pit bull registrations during that same period totaled only $35,000.
A BSL Cost Calculator developed by Best Friends estimates that BSL in Indianapolis would cost the city over $1million per year to enforce.
The U.K.'s Dangerous Dog Act is estimated to have cost well over $14 million to enforce between the years 1991 and 1996 (no more recent numbers are available).
In 2001, a Baltimore, Maryland, auditor estimated it would cost $750,000 to enforce a breed-specific ban.
Citizens file lawsuits against municipalities with BSL, alleging unwarranted discrimination or breed misidentification.
BSL requires identification of a dog's breed which is extremely difficult.
In 2007, only an estimated 2% of dogs were registered with a kennel club. The rest had undocumented parentage.
Animal Control Officers and Veterinarians are not trained to identify breeds.
Many places with BSL use a checklist of characteristics which are subjective (head is medium length, neck is muscular).
Many owners have successfully challenged the breed identification of their dog.
Can you identify a "pit bull" mix? Only three of these dogs have (some) "pit bull" DNA, yet most of these dogs might be visually classified as "pit bulls" and subject to BSL.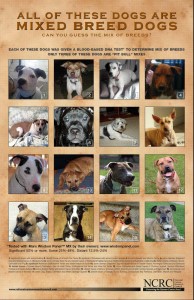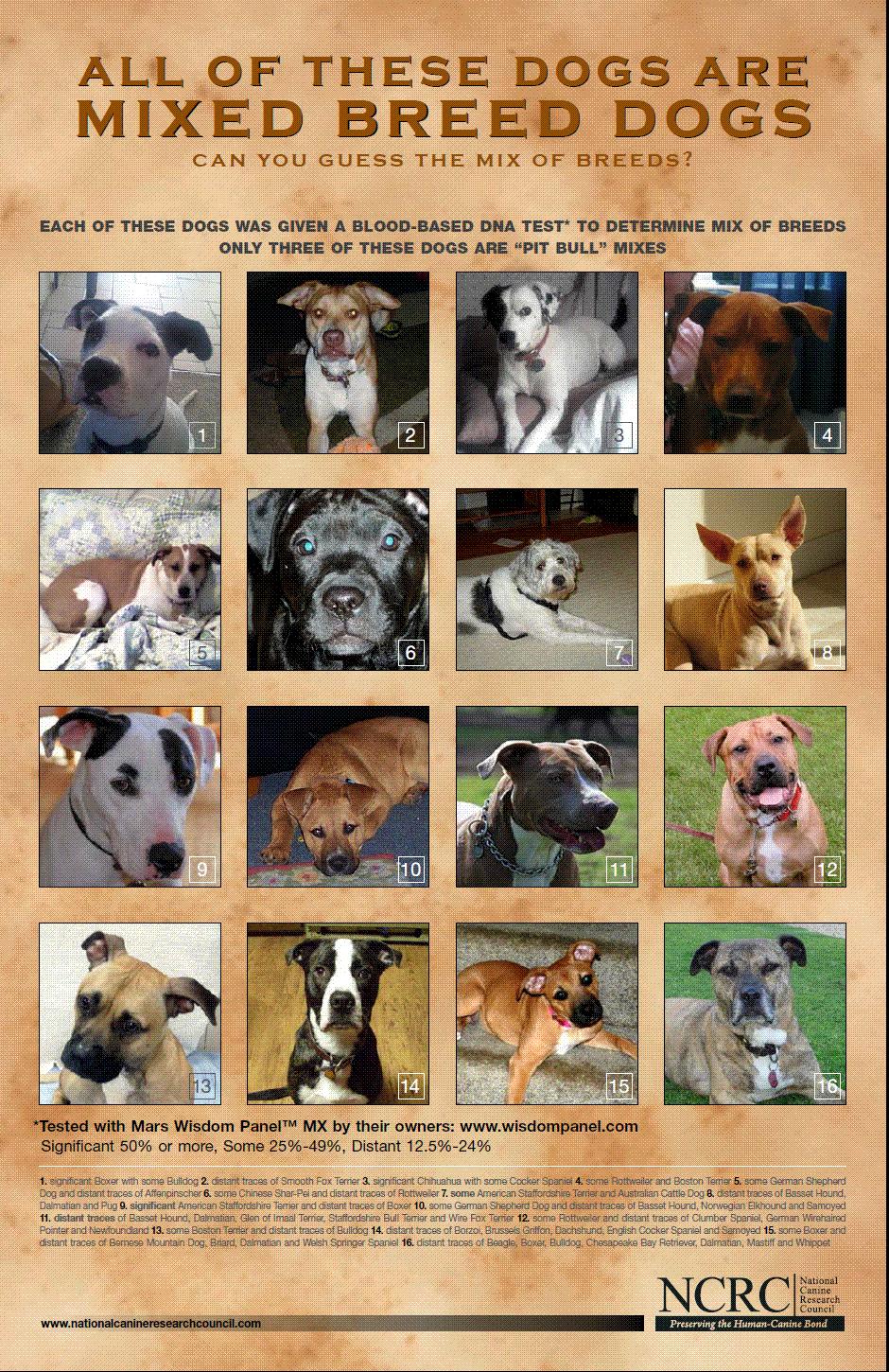 (Click on the image to open a large PDF.)
BSL is opposed by many professional organizations.
American Dog Owners Association (ADOA)
American Humane
American Kennel Club (AKC)
American Society for the Prevention of Cruelty to Animals (ASPCA)
American Veterinary Medical Association (AVMA)
American Working Dog Federation (AWDF)
Association of Pet Dog Trainers (APDT)
Humane Society of the United States (HSUS)
International Association of Animal Behavior Consultants (IAABC)
International Association of Canine Professionals (IACP)
National Animal Control Association (NACA)
National Animal Interest Alliance (NAIA)
National Association of Dog Obedience Instructors (NADOI)
BSL punishes innocent dogs.
It's estimated that there are 5 million "pit bull" type dogs in the United States—the vast majority of which are well socialized, great pets.
BSL ignores the true causes of dog bites and attacks.
Dog bite researcher Karen Delise has found three major elements that correlate to almost all fatal dog attacks:
Function of the dog – Dogs implicated in attacks are often used for guarding, fighting, and breeding
Owner (mis)management and (lack of) control – Dogs implicated in attacks are often improperly contained or not contained at all; unsupervised; chained; and/or not being watched while interacting with a child
Reproductive status of the dog – Dogs implicated in attacks are overwhelmingly unlikely to have been spayed or neutered
Effective alternatives to BSL
Responsible dog ownership is the most effective way to reduce the number of dog bites and attacks. To encourage responsible ownership, legislation should focus on
Dangerous dog ordinances that do not specify breed but focus on the behavior of the animal
Owner regulations that cover tethering, chaining, loose dogs, and standards of care
Additional programs that can help reduce dog bites:
Low or no cost spay/neuter services
Abuse prevention
Community dog safety training
Educate Yourself!
BSL in Texas
Love-A-Bull is Texas based and the majority of its members live in Texas. For that reason, it is important for Love-A-Bull members to know that Texas state law prohibits breed-specific legislation.
822.047. LOCAL REGULATION OF DANGEROUS DOGS. A county or municipality may place additional requirements or restrictions on dangerous dogs if the requirements or restrictions:
(1) are not specific to one breed or several breeds of dogs; and
(2) are more stringent than restrictions provided by this subchapter.
To learn more about BSL and view BSL alerts across the country, visit
www.StopBSL.com
.