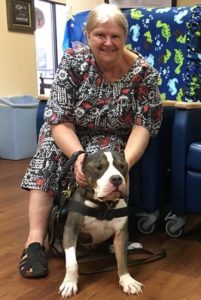 Our friend and long-time volunteer, Ann, is a sweet soft-spoken woman. If one met her without her dogs, they might guess she owned a Yorkie or a poodle. They'd be wrong.
Over the years Ann has adopted nearly half a dozen Pit Bulls, teaching them how to play nicely, use their manners, and stay out of the darn pond. She has helped them achieve certifications in nose work and obedience. Treating them when they are sick, she's had more than her fair share of battles with cancer. Ann is a woman truly dedicated to her furry family, even giving them a name: The Thundertail Tribe.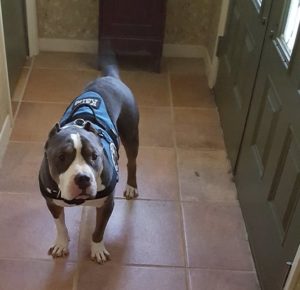 Somewhere along the way, Ann adopted Kane, a stocky blue and white Pit Bull with tan eyebrows that can melt hearts at first glance. As she and Kane went through therapy dog prep, I saw him do something unusual for a dog in training. He didn't change much.
Luckily he didn't have to. Kane is comedically stubborn, and possibly not the most trainable dog, but that's okay because his sweet gentle personality is innate. He joined The Pit Crew in 2013, and Ann has been posting pictures of him waiting eagerly by the front door in his therapy vest ever since.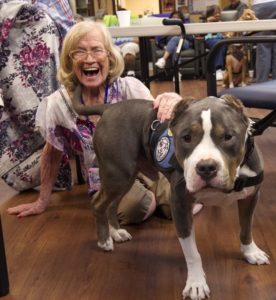 A regular at AGE of Central Texas and Hope Alliance, Kane is a dedicated soldier of snuggles. There are so many photos of him bringing joy to people, it was hard to choose only a couple for this post. A lover of all creatures big and small, he has even been featured in the news alongside his pal, a therapy guinea pig.
Recently Ann, Kane and the rest of the Thundertail Tribe, decided to relocate. We are sad to see them go, but forever grateful for their unwavering service and loyalty to our cause over all these years. Any city they call home is lucky to have them.
Best of luck on all your adventures, Ann and the Thundertails.
Love,
Love-A-Bull & The Pit Crew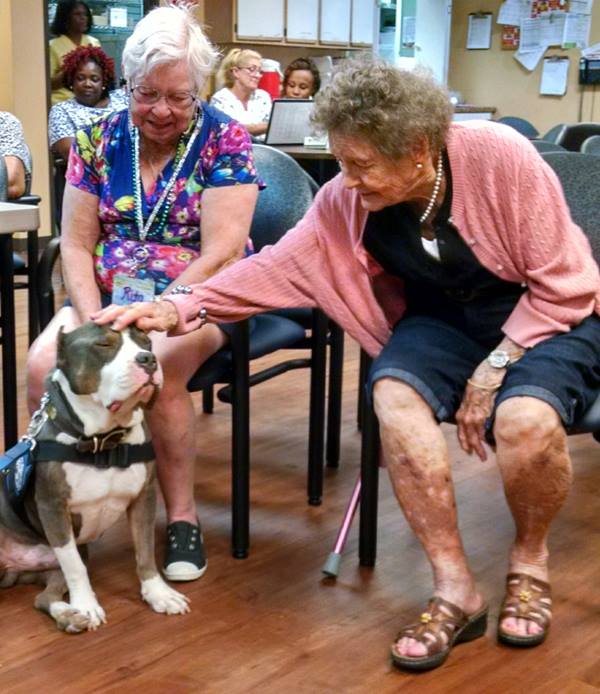 Author: Crystal Dunn, Program Manager: The Pit Crew