Love-A-Bull recently had the amazing opportunity to work with the Media Awareness Project and the youth at Linder Elementary School. The mission of the Media Awareness Project is to empower youth to use media for community engagement, cultural expression & social change.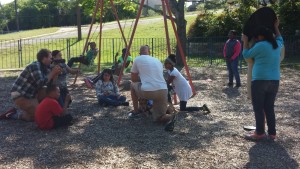 At Linder, there is a really big focus on Get Ready, a program that works with students to prepare them for what's coming next. Middle school is much harder. There is more work. There are more expectations. Students can easily get distracted or fall into trouble. Media Leadership is teaming up with the Get Ready program on the Linder campus to enrich it with digital media skill and production and to teach our students what they are capable of! Eric Graham will be heading up the teaching of the Media Leadership program at Linder.
Love-A-Bull was honored to be part of their most recent project which involved none other than our awesome Pit Crew Therapy Dogs. Along with guidance from Nina Medeiros, Eric Graham and his class began production on a video about how to be a responsible dog owner, dog safety and discussed how great pit bull type dogs really are! It has been so exciting to watch these students hone their interview and production skills on a topic that they care about. From cameras, to lighting, to sound equipment these kids have it covered and did a fabulous job interviewing our Pit Crew Teams.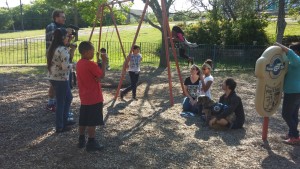 We'll be posting more videos and pictures created by the students soon, but in the meantime check out this teaser that the Media Awareness Project put together: https://vimeo.com/159877238
To learn more about the Media Awareness Project: The Home of Youth Voice, please check them out on their many social media avenues:
http://www.mediaawarenessproject.org/
https://www.facebook.com/Austin-Media-Awareness-Project-237858492950292/
https://vimeo.com/mediaawarenessproject