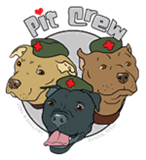 LOVE-A-BULL's Pit Crew is an award-winning all-pit bull and pit bull mix breed Canine Good Citizen and therapy dog program serving Austin, TX and surrounding areas. 
Our teams are more than just dogs who provide therapeutic interaction, but they improve moods, build confidence and heal hearts. Pit Crew teams work as ambassadors for their breed, helping to educate the community about dog safety, the humane care of animals and the importance of never judging a book by its cover.
Where does the Pit Crew visit?
Our Pit Crew-trained dogs visit workplaces, elementary schools, colleges, hospice centers, hospitals, summer camps and LOVE-A-BULL events!
Check out some of our cool media and events coverage:
See Pit Crew in action on 'The Hook' at University of Texas
---
Types of Pit Crew Visits
Therapeutic Visits: Popular with schools, crisis centers, assisted living centers, hospitals, and even college finals weeks, therapeutic visits are cuddle sessions where the presence of a sweet dog provides comfort and companionship to anyone who needs it.
Book Reading Buddies: Request a Pit Crew dog to read to at your local library, or request dogs at your school to help get kids excited about reading. Dogs are great listeners and help kids relax as they learn and practice these critical skills.
Art Activities: Dog bandanas, paw art, dog-toy making, and other fun activities are great for students (or summer campers) to help local charities or just create some cool stuff. Want to work on a project with Pit Crew? We can help!
Dog Safety Talks

: Pit Crew is available for assemblies and clubs to talk about dog safety, caring for pets, dog training, and the world of therapy dogs.

Advocacy Visits: Pit Crew attends a number of festivals and special events every year to give presence to the positive, sweet, and well-behaved side of pit bull-type dogs. Request a Pit Crew dog to attend your event and add a bit of puppy charm with a kissing booth or photo-op with America's finest four-legged friends.
Request Pit Crew visits by emailing pitcrew@love-a-bull.org.
---
Join Pit Crew!
Is your dog a future thera-pittie? We are growing and would love for you and your well-socialized pit bull or pit bull mix to join our team! Email pitcrew@love-a-bull.org if interested.
---
Want to know more about The Pit Crew? Visit our FAQ