Lindsey Ortiz, President, Board of Directors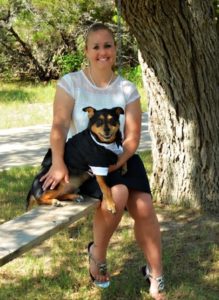 Lindsey Ortiz has been a long-time animal lover with previous volunteer work and employment in local no-kill shelters and rescues. She and her husband, Landon, adopted their first pittie in 2009 and became forever advocates for the breed, later adopting another.
Lindsey joined the Board in 2014 and served as Event Chair for LOVE-A-BULL from 2010 to 2020. She still uses her background in non-profit fundraising to help organize and plan LOVE-A-BULL's events throughout the year, raising tens of thousands of dollars to help pit bull-type dogs. A community warrior, she prides herself on volunteer camaraderie and networking with people who can truly influence and change negative perceptions about pit bull-type dogs. Lindsey is our main training and behavior consultant and co-leads our Adoption Committee.
Lindsey is a proud mother of a pittie-loving girl and future LOVE-A-BULL volunteer named Kenzie. Her four-legged babies include Julie the pittie, Vinnie the 100lb pittie mix, and Kobe (the dachshund mutt and best good boy). Lindsey will forever be a proud pittie mom, advocate, and educator for the breed.
Sara Stein, Vice President, Board of Directors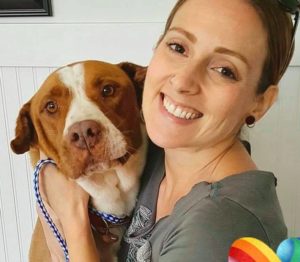 Sara has been in love with rescuing animals since her youngest days of finding strays with her mom. In 2008, Sara entered Veterinary Technology school with the goal of working in rescue, receiving her degree and passing both state and national exams. She has worked in private practice and The Austin Humane Society, leading her to foster seniors and medical-case dogs with Austin Animal Center, Austin Pets Alive! and LOVE-A-BULL. She also currently volunteers with the Dogs 101 Program Travis County Correctional Center.
Sara first heard of LOVE-A-BULL in 2013 and is very excited to be on the board and speak on behalf of this misunderstood and incredible group of dogs. She has never known a breed that is more cuddly or silly than a pittie. Sara runs our foster program in addition to co-leading our Adoption Committee.
It takes a village to educate, advocate and save lives — and she is happy to be a part of that village!
Kailyn LaVoie, Secretary, Board of Directors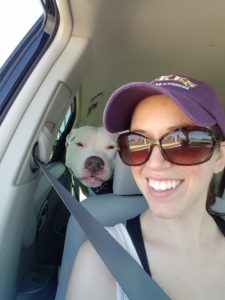 Kailyn, a life-long animal lover, committed to living a lifestyle truly in line with animal welfare in 2014. Her passion has always been dogs — especially those that face the biggest challenges. She believes in correcting the skewed image of pit bull-type dogs through increasing personal interactions with the wide-mouthed wiggle butts, remedying the myths (both positive and negative) around the history and traits of these dogs, and helping people to think critically about the current information available around dogs, which is frequently inaccurate or misleading.
Upon seeing that her values were shared with LOVE-A-BULL, Kailyn joined the events team in 2016 and became the secretary of the board in 2019. She believes deeply in rescue, and as a result has been providing love and housing to her free-loading mutt, Boone, since 2012, and Science, her pit bull-type pup, since 2014.
Her dream is for compassion and respect to be extended to all animals. Her action plan is to start that message through the rescue of our beautiful and deserving furry friends.
Amber Krosel, Treasurer, Board of Directors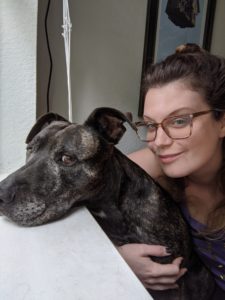 Amber has been a dog lover forever but pittie-obsessed since 2015, when she began volunteering with LOVE-A-BULL upon moving to Austin and also adopted her brindle pit mix, Remy, from Austin Pets Alive! She serves as LOVE-A-BULL's Event Chair, additionally joining the board as treasurer in April 2020.
Amber's background includes past volunteer events leadership positions with Austin Pets Alive!, in addition to professional marketing, research and communications experience. She holds a master's degree in Public Affairs Reporting from a renowned program at the University of Illinois Springfield, and previously was a journalist for 10 years. She now works in tech.
On a personal level, Amber enjoys meeting new people, supporting local businesses, and sampling yummy foods and beers! She's excited to help bring to life popular LOVE-A-BULL events such as our Pints for Pits fundraisers and National Pit Bull Awareness Day, plus continue to connect with the community and encourage adoptions through our social media efforts.
Roxy Medley, Member, Board of Directors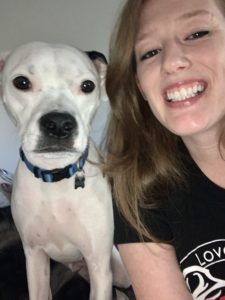 Roxy will tell you she'd be "the dog lady" in a heartbeat. She has had dogs her entire life but brought home her first American Staffordshire, Archie, in 2017. From their loyal nature to feistiness, to big smiles and squishy faces, this was a breed she would quickly fall in love with and want to advocate for.
She has always been passionate about volunteering, and when searching for new opportunities to serve the community in 2019, she found LOVE-A-BULL. She helped with events, but after just a few months, she realized she found the perfect place to make a difference and joined the Board of Directors. Her outgoing personality and commitment fit the role of Volunteer Coordinator perfectly.
Roxy enjoys puppy play dates at the dog park with Archie and her other fur baby, Chanel. As owner of Medley Wellness, Roxy believes that dogs truly do positively impact your physical and mental health. Archie aspires to become part of the Pit Crew to share his love with others through therapeutic interaction. Together they will be ambassadors for pit bull breeds, and educate and inspire others to get involved with LOVE-A-BULL!
Dr. Jenny Furth, Member, Board of Directors
Dr. Jenny Furth, DVM, joined the LOVE-A-BULL Board of Directors in December 2020. She obtained her undergraduate education at the University of Denver before receiving her Doctor of Veterinary Medicine degree from Texas A&M in 2011. She then completed a small animal rotating internship at Auburn University in Alabama. Dr. Furth went on to complete a surgical internship at Capital Area Veterinary Specialists in Austin, Texas and taught as a clinical associate in small animal surgery at Western College of Veterinary Medicine in Saskatoon, Saskatchewan. For 3.5 years, she worked as an emergency and critical care doctor at two of Austin's speciality hospitals, but in 2018 she transitioned to general practice.
Dr. Furth's professional interests include ultrasonography, surgery, emergency and critical care, non-invasive techniques, neurology, rehabilitation, and teaching/education. Her family relocated to the northwest Dallas area in early 2021. She appreciates spending time with her son and husband as well as their two dogs, Tony (a three-legged Pit Bull with separation anxiety) and Gillie (an enthusiastic pogo-stick Lab mix). In her spare time, Dr. Furth enjoys reading, crafting and watching movies.
Previous Leadership
---
Lydia Zaidman and Meghan Wells, Co-Founders of LOVE-A-BULL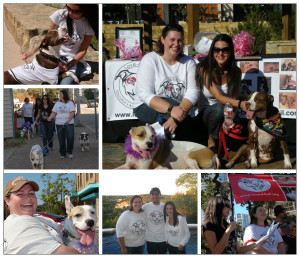 In 2005, Meghan Wells took over leadership of the American Pit Bull Terrier Meetup group in Austin, a small gathering of pit bull advocates who took monthly "fun walks" around downtown. Later, Meghan joined forces with Lydia Zaidman, another one of the active Meetup members, to transform the group into a vehicle to change minds and fight negative stereotypes surrounding pit bull-type dogs. Together, they founded LOVE-A-BULL.
In 2008, with a huge dream and a lot of hard work, Lydia and Meghan turned LOVE-A-BULL into a 501(c)3 not for profit organization. Meghan along with her pittie, May, and Lydia along with her pitties, Mocha and Lucy, worked tirelessly to help educate the public on the truths about pit bull-type dogs and to advocate for just how amazing these dogs can be. Since its inception, Meghan and Lydia helped to shape LOVE-A-BULL into what it has become today: a thriving education, advocacy, and rescue organization whose primary mission is to promote responsible guardianship and improve the image and lives of pit bull-type dogs.
While serving the organization, Lydia helped found the Pit Crew Therapy Dog Program of which she and Mocha served in until Mocha's passing. While serving LOVE-A-BULL, Meghan spearheaded multiple education and outreach efforts, including conference workshops, community resource fairs, interviews, and research projects, and partnerships to spread awareness of our mission and goals. She led countless free spay/neuter clinics and helped co-found the low-cost training program still offered to the Austin community to this day. Both Lydia and Meghan served tirelessly on the Board of Directors before ending their tenure in 2014. They remain active as volunteers, relentless supporters, adopters and fosters for the organization.
LOVE-A-BULL would not be the amazing organization that it is without their dedication and hard work. A huge thank you goes out to these amazing women and all they have accomplished for pit bull-type dogs everywhere!
Crystal Dunn, Former Vice President, Board of Directors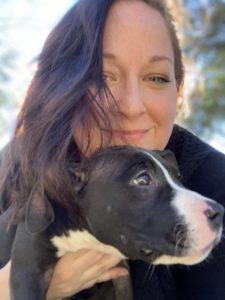 Crystal started training dogs professionally in 2006, where she came to know and adore pit bull-type dogs through her clients. Their quirky nature, loyal hearts, and versatile abilities led her to adopt her first pit mix, a five-year-old dog named Mo, in 2007. Mo served as a therapy dog, training assistant, and Crystal's constant companion until his death in 2015.
Over the years, Crystal has worked in Houston and Austin to rehabilitate all types of dogs. While running her own business, Leaps N' Hounds, she also helped overhaul a high-kill shelter and moved them to a no-kill model, plus started LOVE-A-BULL's Pit Crew therapy dog program. Crystal lives in Austin with her husband, daughter and two pit bulls.
Crystal took a hiatus from the LOVE-A-BULL board in September 2020 but continues to serve as a training consultant.
Kat Peterson, Accountant and Former Treasurer, Board of Directors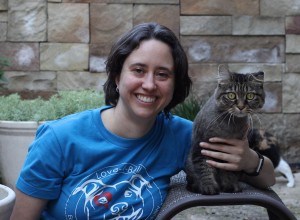 Kat Peterson is an animal welfare advocate and cherishes the important role all pets play in our lives. She is an avid cat-lover and parent to three adorable kittens. Kat was first introduced to LOVE-A-BULL and the Pit Bull "breed" by her sister and the many pit bulls that she has owned and fostered over the years.
In 2009, Kat joined LOVE-A-BULL as the organization's accountant, working to protect the financial health and offer guidance to all involved on the fiduciary responsibilities required in running a non-profit. In April of 2016, Kat decided to increase her dedication to LOVE-A-BULL and join the Board of Directors in order to help ensure pit bull-type dogs get the respect they deserve. Kat's tenure on the board ended in 2020, but she remains an active volunteer.
Brandy Lord, Former Board Member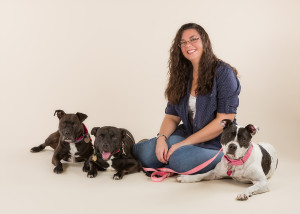 Brandy Lord has been an avid pit bull lover since her teenage years. She began her relationship with LOVE-A-BULL in 2012 after adopting Mr. Felix as a playmate for her female pittie, Karma. Brandy continued to become more heavily involved in the organization as a trainer and foster.
In 2014, Brandy was ecstatic to be offered the opportunity to sit as part the Board of Directors. Her "get it done" attitude proved to be a valued trait to the organization as LOVE-A-BULL continued to press forward with its mission of changing the negative stereotypes surrounding pit bull-type dogs. In 2015, Brandy adopted her second pit bull from LOVE-A-BULL, Mama Jade, completing her pack of 3. She looks forward to a day when all dogs are seen as individuals and when discrimination based on breed is outlawed everywhere. Brandy stepped down from the board in 2018.
Amber Mitchell, Former Board Member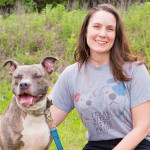 Amber Mitchell discovered LOVE-A-BULL at one of the organization's adoption events in 2012. She had recently seen the disproportionate amount of pit bull-type dogs waiting for adoption at one of Austin's local animal shelters and knew she wanted to be involved with an organization that was advocating for and reestablishing the positive image of the pit bull. Amber joined LOVE-A-BULL as a foster mom to Adopt-A-Bull Boots and soon became what many rescuers lovingly refer to as a "foster failure". Although she couldn't resist adopting Boots, Amber knew she didn't want her involvement to stop at being an adopter and in July of 2014, she became Volunteer Coordinator. In early 2015 Amber Mitchell joined the Board of Directors and served for two years.
Megan Ransom, Former Board Member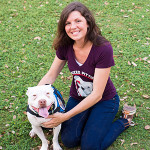 Megan Ransom has been working against negative stereotypes associated with pit bull-type dogs since she and her husband, Josh adopted their first pit bull mix in 2008. They welcomed Howie into their Indiana home after months of fostering him and facing the discrimination pit bull guardians face everyday. She and Josh added a second pittie to their pack in 2012, Pete, who landed a spot in their home after being fostered through the LOVE-A-BULL Rescue Program. Pete and Megan enjoy visiting local nursing homes, schools, and attending community outreach events with their fellow Pit Crew members — hanging minds and spreading the love that pit bull-type dogs have to give! Megan worked closely with the Adopt-A-Bulls in our rescue program and has presented on behalf of LOVE-A-BULL at conferences, such as American Pets Alive. Megan stepped down from the board in November of 2015 after seven years of service.
Leala Ward, Former Board Member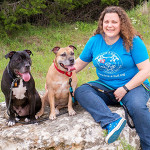 Leala Ward became an advocate for pit bulls in 2006 when she adopted her handsome boy, Leo. Now living with a house full of wonderful pit bulls, Leala has been confronted with many of the pit bulls stereotypes and myths. As a result, Leala was overwhelmed with the need to educate. With that inspiration, Leala instantly became an active volunteer at LOVE-A-BULL. She has participated in the Low-Cost Training Program and was an active participant in many public events where LOVE-A-BULL organized grassroots education and outreach to the community. Leala is a spay/neuter champion and works tirelessly to help with pit bull overpopulation. LOVE-A-BULL asked her to join the organization as a Board Member in early 2009, and she co-founded our rescue program in 2010. Leala's board tenure ended in April of 2016.