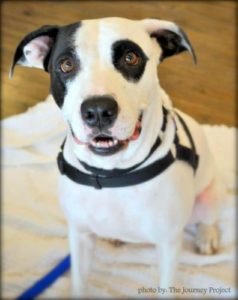 When you picture a good dog, you might imagine the very image of Daphne. She was indeed a cutie, and she had the temperament to match. She had the look of a dog who lived an easy life. Tail wagging, tongue joyfully flopping out of her mouth, and a smile in her eyes. Daphne was a black and white spotted ray of sunshine. Her quirky personality could charm the snuggles right out of you.   
But Daphne's humble beginnings were no indicator that she'd be any of these things.  Her history could be traced back to Spindletop, a rescue and sanctuary in Willis, Tx, that was eventually busted for cruel conditions.  In fact, if Spindletop hadn't been shut down, Daphne may not have made it out alive. 
But she did. 
Despite the odds of being a pit bull from a rough place, a number of good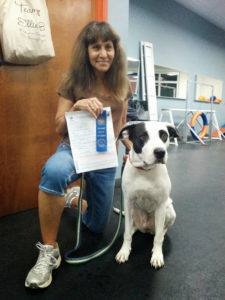 people played their part in helping Daphne escape. Thanks to these people, another good person, a woman named Wendy, was able to meet Daphne and fall in love with her. Daphne's story could have happily ended there, as Wendy and her family loved Daphne completely and gave her the best life a dog could ask for.
But, Daphne was just getting started.
As Wendy worked with Daphne, she recognized something special in her dog.  Daphne's love for people made them feel comforted and special. After some training, Daphne was certified as a Canine Good Citizen and eventually as a therapy dog. Daphne and Wendy joined the Pit Crew, where Daphne excelled as a therapy dog and began to work her magic on people all around Austin.  A regular at AGE of Central Texas and The Settlement Home for Children, the people Daphne visited grew to recognize and love her. They looked forward to Daphne's visits where they would hug her, pet her soft fur, and enjoy her sweet and gentle company. Daphne brought joy to everyone she met.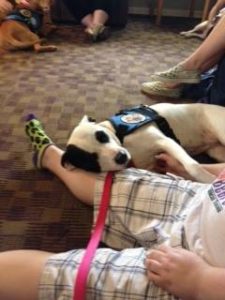 Wendy and Daphne served on the Pit Crew for years, donating their time and energy to helping others.
Recently Daphne was diagnosed with cancer. It is with a heavy heart that I write here of her passing in early January. She went peacefully with her family by her side.
The pain of losing a dog sits on the horizon, awaiting us from the day we adopt them. We know what we are getting ourselves into and that heartbreak is inevitable, yet we do it anyway.  Then, when they leave us, it is always too soon.  We need only look at a dog like Daphne to answer why it's all worth it.
A family dog, an ambassador for her breed, and a loyal servant to her community, Daphne's contribution to this world was immeasurable. Like all of our Pit Crew dogs, she inspired us to be better people. She made our world a better place simply by being herself.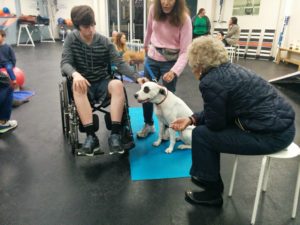 Sweet Daphne will be dearly missed by many, but she will live on in our memories and hearts. If she had one bit of wisdom to share with us, in that quiet way that dogs seem to share it, it might be to give a dog like Daphne a chance. You might be surprised at how much you get in return. 
Rest in peace sweet girl.