*ON HOLD DUE TO PANDEMIC & INCREASED RESCUE EFFORTS* – Please see our Training Resources for a list of other local and national trainers/references.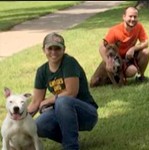 LOVE-A-BULL traditionally has offered low-cost training programs, starting with Basic Obedience and leveling up to Intermediate and Advanced. We apply challenging distractions and focus heavily on leash work to help prepare your dog for real-world challenges. Our curriculum is also set up to help you and your dog prepare for Canine Good Citizen (CGC) certification.
CGC is a certification program designed to reward dogs who have good manners at home and in the community. It is a two­-part program (10-step test) that stresses responsible pet guardianship for owners and basic good manners for dogs.