Why give? As a non-profit organization, Love-A-Bull depends entirely on donations from kind hearted people like you. With your support this year we can do even more to positively affect the lives of pit bull type dogs and their guardians.
Love-A-Bull's mission is to promote responsible guardianship and improve the image and lives of pit bull type dogs through community support, education, advocacy and rescue. Thanks to the generous support of our donors, in 2017 we were able to:
Assist 44 families, locally, with the vaccination of their dogs
Assist 23 families with the spay/neuter of their dogs
Assist 4 families, across the U.S., with monetary funds for major medical procedures
Place 10 Adopt-A-Bulls into their fur-ever homes
Host our 2nd & 3rd Chloe's Clinic, where we offered FREE spay/neuter vouchers, vaccinations, micro-chipping and kibble for guardians of pit bull type dogs
Made a new partnership with the Austin Bar Association's Animal Law Section where the Pit Crew Therapy Dog teams were able to give some much needed comfort and stress relief to Veteran's seeking legal advice
Graduated 31 participants and their pitties from the Love-A-Bull Obedience Classes
Helped with much needed disaster relief for Hurricane Harvey by providing over 4,000 lbs of dog food to community centers housing owners and their pets.
---
IMMEDIATE NEEDS
Love-A-Bull is seeking recurring gifts to allow continued program growth and reach even more communities that are in need of our resources for their pit bull type dogs. Monthly donations to our organization allow steady and consistent support for us to accomplish our mission with YOUR help! In the coming year we hope to:
Celebrate our 10 year milestone!
Work with supporters to incorporate a Fence Building program and encourage owners to keep their dogs off tethers.
Host more FREE clinics in order to offer communities spay/neuter vouchers, microchips, vaccinations and kibble
Spread the word about our Pit Crew teams by incorporating at risk youth, visiting detention centers, as well as working with veteran support organizations.
Work with local and surrounding municipalities in order to rescue and re-home even more pit bull type dogs
Assist in the education of landlords and corporate entities in the realities of breed restrictive policies.
We can accomplish all of this and more with your generous gift!

---
YOUR GIFTS AT WORK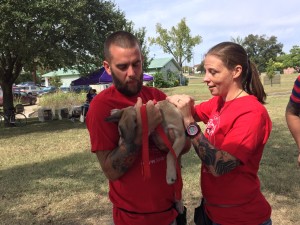 Thanks to a generous donor, Love-A-Bull was able to host its first ever, Chloe's Clinic! We were excited and honored to be able to offer resources such as FREE spay/neuter, microchipping, kibble and vaccinations to the community. Read more details here.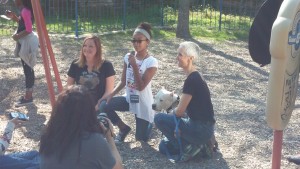 Love-A-Bull was so excited to partner with the Media Awareness Project and the youth at Linder Elementary School. The mission of the Media Awareness Project is to empower youth to use media for community engagement, cultural expression & social change. This was a wonderful partnership with Love-A-Bull's Pit Crew and the awesome youth at Linder. Read the rest of the details here.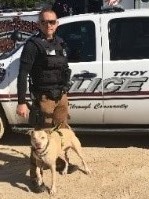 Peaches-Newest Member to the K9 Force: Love-A-Bull rescue pup goes from being a wounded stray to a K9 dog with the Troy Police Department. Check out more details on Peaches and her journey From Stray to K9 Super Star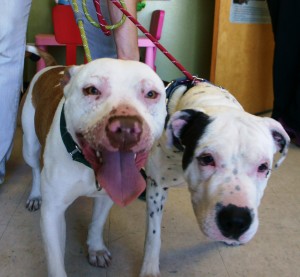 Making History-Childress, Texas: Love-A-Bull is changing the hearts of a community while saving its dogs from euthanasia. Check out their road From Pound Pups to Family Members