Love-A-Bull is incredibly excited to announce an addition to its FREE obedience classes, Intermediate Obedience!
The new Intermediate Obedience Class will not only build on what was taught in Basic obedience including the following commands: Sit, Down, Stay, Recall, Leave It, Focus and Loose Leash Walking (LLW) , but it will also focus on real world distractions and heavily proofing learned commands in order to continue to build a relationship built on trust and respect.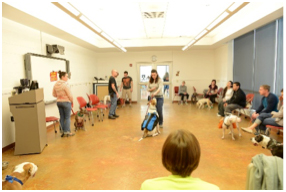 Intermediate Obedience classes will introduce the "place" command to teach impulse control; an incredibly important tool for any dog to have in creating self-management, as well as the "heel" command (different from LLW) in order to maintain a focus on you (the handler) while walking.
The proofing of prior commands taught along with the new commands learned will prepare you and your dog to take advantage of the Advanced Obedience Classes which are in essence a mock Canine Good Citizenship (CGC) evaluation. As an organization we stress the importance of the CGC as it is just one way to show everyone that our dogs are exemplary members of the community, and to strengthen the bond between pittie and parent.