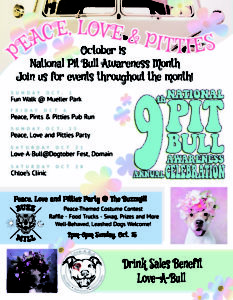 Love-A-Bull will be hosting and participating in events throughout the entire month of October to highlight our loveable pitties, their owners and the community. There will be an abundance of great fun, great beer and great pitties, as well as multiple volunteer opportunities.
Our theme this year is Peace, Love and Pitties so break out your most grooviest digs and come hang with us! Check out all the awesome details below:
We are so excited to be able to spread out the Pit Bull Awareness Celebration and allow everyone the chance to get involved on multiple different levels and celebrate our awesome pit bulls! If you have any questions, please feel free to email Lindsey@love-a-bull.org
We hope to see many of you soon!