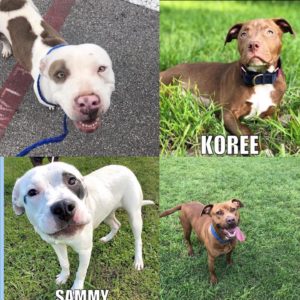 Dear Valued Volunteers and Supporters,
LOVE-A-BULL remains committed to helping dogs during this pandemic and will continue on with our daily operations in caring for foster dogs and actively seeking adopters. While some of our upcoming events may be impacted, we remain dedicated to our core cause and plan to do whatever we can to help pit bulls in need during this time.
We urge all of our supporters to do what is best and safest for their families, but we'd also like to remind everyone that the shelter and rescue system is often impacted harshly during times of crisis, even when that crisis is indirectly related to dogs. People stop adopting dogs, they stop volunteering, and they stop donating. These are all critical to saving lives.
Local shelters and animal care workers will be in high demand during these times, and LOVE-A-BULL is doing all we can to lighten that load by continuing our foster efforts, providing supplies, and volunteering.
**What can you do to help?**
Aside from the general advice of washing your hands, not touching your face, and staying in, we'd like to encourage the following actions:
1. Take care of yourself. Eat well, spend time with your dog, and try not to let the stress of current events impact your health.
2. As you prepare, don't forget about your pets. Make sure you have dog food and meds for your pets as well as yourself in case of quarantine. Have a plan for where they'll go if you are not able to care for them should you get sick. Hopefully this won't be necessary, but better safe than sorry.
3. It has been confirmed that dogs CANNOT contract COVID19. Please share this so that people understand that there is no reason to avoid dogs or abandon their pets.
4. Check your sources before sharing information. There is a lot of misinformation being spread that can do harm. Stick to the facts and don't panic.
5. Volunteer if you can. If you can take an animal or two into your home as a foster or adopter, please do so. The more animals we can get out of the shelters now, the fewer people will have to gather in shelters to care for them.
6. Donate if you can. Fundraisers and events are critical to the shelter and rescue community. Many of us are facing cancellations of events that are critical to our efforts. If you have the means, now is the time to share.
Thank you for your continued support. Our love goes out to you and your pets. Please be safe, smart, and proactive.
Sincerely,
Crystal Dunn
Vice President
LOVE-A-BULL
Check out upcoming virtual events
https://www.facebook.com/loveabullatx/