Our shelters and rescues are compromised in unprecedented ways during this pandemic. While most emergencies in the past have required more hands-on help, this one expressly asks us to keep our distance. It has limited our shelters to skeleton crews, canceled much-needed fundraisers, and compromised our ability to get homeless animals the exposure they need.
So how do you rescue dogs during a pandemic?
We can sum up the answer to this question in one simple word: Fosters.
When we made the plea for fosters at the beginning of the pandemic, we had no idea what kind of response we'd get. All we knew was that we had to try and use our vast network of supporters to do whatever we could to get dogs out of shelters–for their safety and human safety.
The response was astounding. In the past two months, we've had more foster families step up than ever before. As a result, we've been able to refocus our efforts entirely on our rescue/foster program and pull dogs from high-risk areas like Grand Prairie, Lockhart, San Marcos, and Lancaster, to name a few.
In two months, we've been able to save 24 dogs, not counting the puppies in our sweet Emerald's very pregnant tummy that due any day.
As I write this, fourteen of the twenty-four have been adopted, and we're assessing new applicants for our program daily. I'm sitting next to one of the adopted dogs, a mastiff mix named Bruenor, previously named Bo. He came to my home ten days ago, hand-shy and sluggish, recuperating from starvation. Now he happily chews on a bone by the fire and no longer ducks away when we pet him. This pandemic may be a curse, but when I look at him, I'm reminded of how we've made the most of it.
Our work is far from over as the quarantine continues, and it will go on long after that. LOVE-A-BULL is committed to rescuing dogs that would have otherwise never had a chance. We will continue running a foster program that is both rewarding and supportive of anyone who steps forward to take a dog in during these strange times.
To our supporters–whether you are an active volunteer with our organization, or you simply share our stories and available dogs online, we thank you. If this quarantine has shown us anything, it's that we can unite in a good cause even when we're kept apart.
To learn more about how to get involved, check out the following links:
 /
About the Author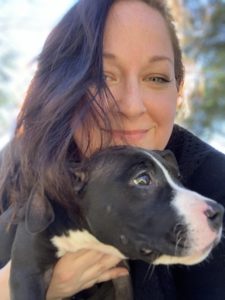 Crystal Dunn is a writer, behavior consult, and trainer living in Austin, TX.
She serves as Vice President for LOVE-A-BULL and hosts the Far Fetched
dog podcast.
crystal@love-a-bull.org
\
Copyright 2020. Sharing without credit is strictly prohibited.