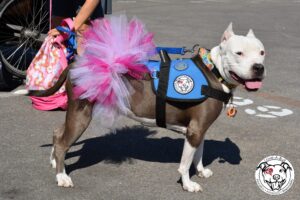 A quick web search for Baby Crowe, one of Pit Crew's longest-serving therapy pit bulls, will bring up quite a long list of stories and photos of Baby working her magic.
She was an adorable dog, no doubt about that. But Baby was much more than cute. She was a survivor, an ambassador, a lover, and a star in her own right.
You can see her here in a funny video from The University of Texas' "The Hook," where she and fellow teammate, Rita, are brightening the day for stressed students preparing for finals (not to mention the entire video crew, library staff, and host). There were smiles and laughs all around.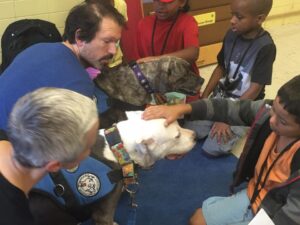 Then, she's here, lounging about with elementary school kids during the Andy Roddick Summer Reading Program. They all know her name because she goes almost every week that summer. They pat her and Rita on their heads as they leave for recess after the visit concludes. One last touch before they go.
Next, you'll find Baby featured in a campaign from The Texas Humane Legislation Network. It's actually Baby's origin story — the one where she was found on a chain, neglected, and probably destined for a much shorter life. This one is harder to watch, but it's important. This is where she came from, what she survived. In doing so, she becomes a living example of why it's so important to have legislation in place to protect dogs like her, and why dogs pulled from chains should never be discarded or underestimated.
THLN succeeds in passing tethering legislation with Baby's story as inspiration. It's a feather in her cap … or maybe better stated … more twill for Baby's tutu.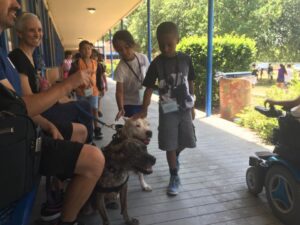 The list goes on, on and off camera for Baby. Whether she was visiting a hospice center, snuggling foster kids, warming hearts at a women's shelter, or just bouncing around the dog park, Baby was always setting an example, making an impression. She had a way of drawing attention to her. Sometimes she'd even sing a little "woo-woo" song, accompanied by a front-paw prancy dance, just to make sure everyone was listening. All eyes on Baby.
Unfortunately, a dog can't live forever — not even Baby. She passed away earlier this month due to health complications. Baby was not my dog, but I'd be remiss if I didn't say that I shed more than a few tears over her passing. The world was better with her in it, and everyone who was lucky enough to know her felt it.
Special thanks goes out to Baby's family. Her handler, Carri, gave a lot to share her special dog with all of us. For that, we are forever grateful.
With love,
Crystal Dunn, The Pit Crew, & Love-A-Bull