Join the Love-A-Bull Team for Strut Your Mutt 2015!!!
Get ready, get set, get your pooch warmed up…it's time for Best Friends Animal Society's Strut Your Mutt in Austin! Strut Your Mutt is a series of fun events – a community dog walk, 5K run, and even a dog-themed festival – hosted by Best Friends Animal Society in cities across America. The goal is to raise money for homeless pets and local animal welfare organizations like Love-A-Bull.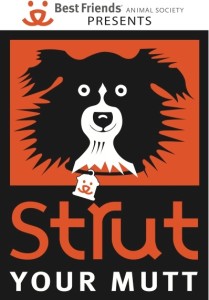 Love-A-Bull is very excited to again participate in this annual nationwide fundraiser with our own Team. All proceeds raised by Team Love-A-Bull will go directly to support Love-A-Bull's programs!
Last year Strut Your Mutt raised nearly $1.7 million for participating animal rescue groups around the country. This year, the goal is $2 MILLION! Austin alone raised over $155,000 last year.
Love-A-Bull would like to help reach that goal by raising at least $3,000 to fund our training and therapy programs, spay/neuter services, community education, and to help continue saving the lives of animals in Austin which will ultimately impact the number of pets entering and leaving the shelters.
You can sign up to join Love-A-Bull's Team to help raise money and walk with us on Saturday, September 19, 2015 at Mueller Lake Park.
Can't join us on the walk? You can still help us raise funding by signing up to be a Virtual Fundraiser or donating directly to our Team Captain. No matter how you decide to participate you'll be helping us get closer to reaching our goal!
Help us start fundraising to reach our goal and, if you can, join us on the walk! As always, thank you for all of your wonderful support. We couldn't do what we do without YOU!
Donations of any amount are appreciated! Here are some ideas for what these funds can help purchase, just to get you started:
$25 Donations
Heartworm and flea protection for one dog for one month
New leash and collar or new bed for one dog
$50 Donations
Vet wellness check for one dog
Spay/neuter for one dog
$100 Donations
New crate for one dog
Mange or allergy treatment for one dog
$500 Donations
Vet check, heartworm treatment, spay/neuter, vaccinations for one dog
Orthopedic surgery for one dog with bone or joint injuries